Trade Commodities like never before with
first of its kind Voice and Electronic Trading Platform
OTCLive is High Touch trading gone Electronic. OTCLive provides traders and risk managers with unique information and liquidity by supplying commodities market access not currently available on any other screen. Our web-based platform allows users to trade efficiently from anywhere. The platform's rich built-in pricing and analytics tools provide users with critical insight into the color of the market. Automated off-exchange trade reporting and confirmation setups streamline straight through processing. With speed and simplicity OTCLive has you covered from front to back office.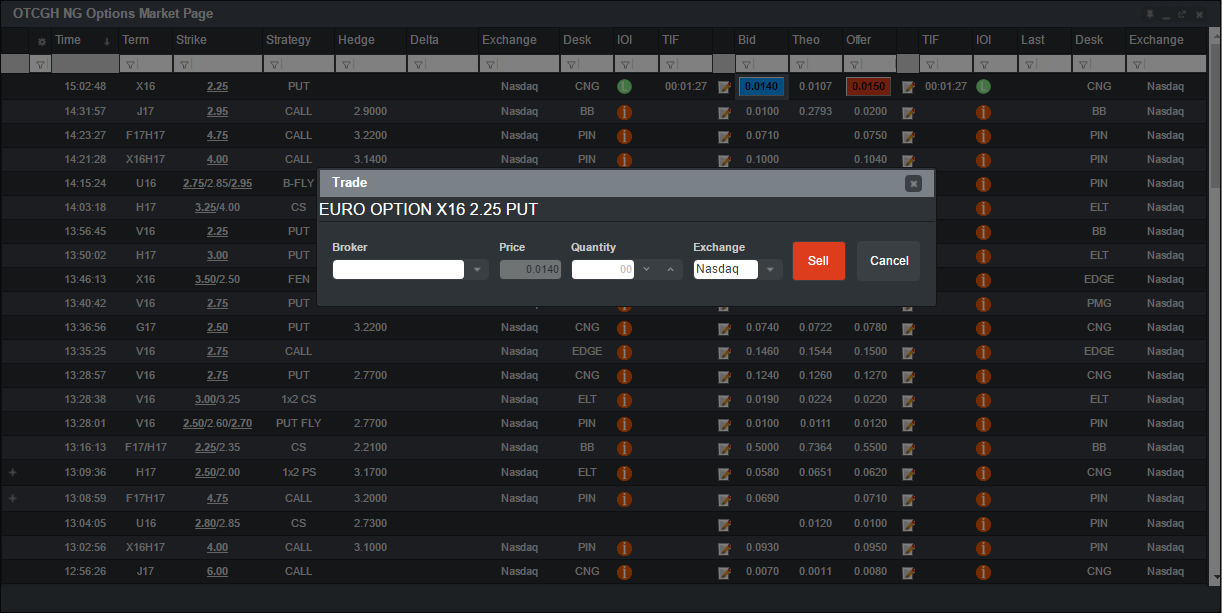 Fully Web-Based Application
Free Embedded Options Pricing and Analytics Suite
Grid driven design allowing for workspace personalization and enhanced user experience
Hit/Lift and Quick Entry functionality for fast order and trade entry
Market Page Montage with Depth of Market (DOM) Views
View, post, and manage orders through a single point and click interface
Heat Map plug-in to analyze market activity
Rich Option Analytics toolset equipped with Option Pricer and Volatility Viewer
Deal Reporting Interfaces for Automatic Clearing on CME and Nasdaq
ICE Block Trade Capture Connectivity
Front to Back Office Trade Workflows for Straight Through Processing (STP)
Multi-Broker Platform with built-in broker destinations
Unparalleled Market Liquidity Access
Standardized IM trading language for streamlined trading
High Availability (HA) System Architecture
Knowledgeable and responsive customer support
Multi-Asset support across future and option block trade markets
Fully owned and developed in-house
Distributed architecture with Plug-and-Play Modular framework
Market Page
Consolidated Quote Board of current bid/offers across the OTC Commodity market
Offers expandable full depth of market views for transparency beyond the best bid and offer as well as customizable filtering options
Intuitive point and click interface, equipped with Quick order and Hit/Lift screens, for fast order entry and trade execution
Built-in broker destinations to top liquidity providers in key commodity contracts on ICE, CME, and Nasdaq
Option Pricer
A European Style Exercise Option Pricer, constructed using the Black-Scholes model
Allows users to toggle between option prices and delta values for both outrights and spreads
Provides additional tenors, underlying and straddles prices, days to maturity (DTM), fair value, delta and volatility details all in a single grid view
Uses Instant Message (IM) syntax for quick contract and strategy lookup
Volatility Surface Viewer
Developed leveraging OTC's own Market Data Warehouse the viewer comes equipped with built-in data quality control
With OTC's flexible plugin framework users will be able to import and publish out their own Volatility Curves
Displays entire Market Volatility Surface with the ability to drilldown to selected contracts
The line graph view allows traders to easily identify option volatility skews
Market Activity Heat Map
Track the latest market activity and trends from an entire market down to a single contract.
Provides Time & Sales details for all traded tenors and strategies
Offers an easy to understand graphical representation of out the money put and call options allowing traders to pin point the most actively traded options, spot time decay, and perform adhoc analysis